Mexico is a medium-sized but rapidly growing market for online shopping. Not entirely dominated by American giants, an interesting competition is at play with traditional department stores holding their ground against pure e-commerce players fighting to expand their presence in this growing market.
The Mexican internet and e-commerce landscape already counts tens of millions of users but it is still far from being mature. With 88 million internet users, Mexican internet users are still only 67% of the total population of 131 million. Mexico is a medium-income country, and Mexicans are fairly accustomed to e-commerce and its convenience. They often use mobile devices to access the internet and shop online for a number of goods and services, making Mexico a maturing e-commerce market.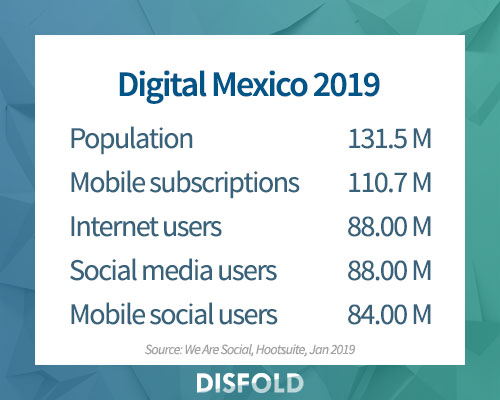 With the Mexican market maturing and a number of players in the market, competition is already quite intense. With some room but limited potential for growth, local and foreign players are fighting to take each other's share and position themselves to grab the remaining online shoppers. Though historic department stores from the United States have taken a large place in the e-commerce market, non-American department stores also have managed to become solid competitors through the maturation of the market, especially Mercado Libre de Mexico (originally from Argentina), who has been able to become the leader, beating Amazon.
Amazon is still a key competitor, but the Mexican e-commerce market seems to be occupied by traditional department stores, with Walmart Mexico, and the Mexican chains Liverpool and Coppel strongly following these two leaders, before a flurry of other specialized and generalist chains of stores.
For more information on other world-leading e-commerce actors, check our series of posts on Top E-commerce Sites, and for more information on the country, read our articles on Top Business Resources for Mexico.
List of top Mexican e-commerce platforms with estimated traffic
To give you more perspective of the state of the market competition in the Mexican e-commerce landscape, here are the current top 10 leaders of e-commerce platforms in Mexico in 2019 and their estimated monthly traffic from SimilarWeb, as of March 2019.
10. Best Buy Mexico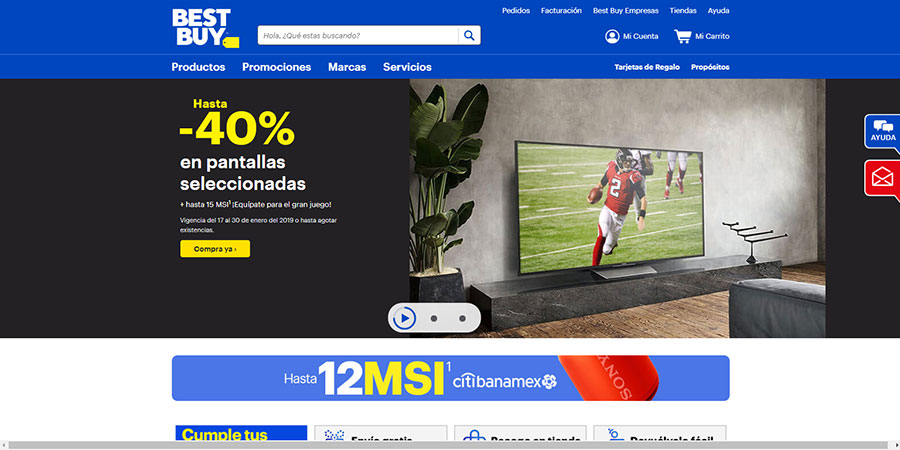 Best Buy is a leading retailer specialized in consumer electronics in the United States, also operating in Canada and Mexico, and China through a subsidiary. Having developed its e-commerce shop, Best Buy sells its electronics and home appliances online to Mexican digital customers.
Website: bestbuy.com.mx – Estimated monthly traffic: 3.5 Million visits
9. Ticketmaster Mexico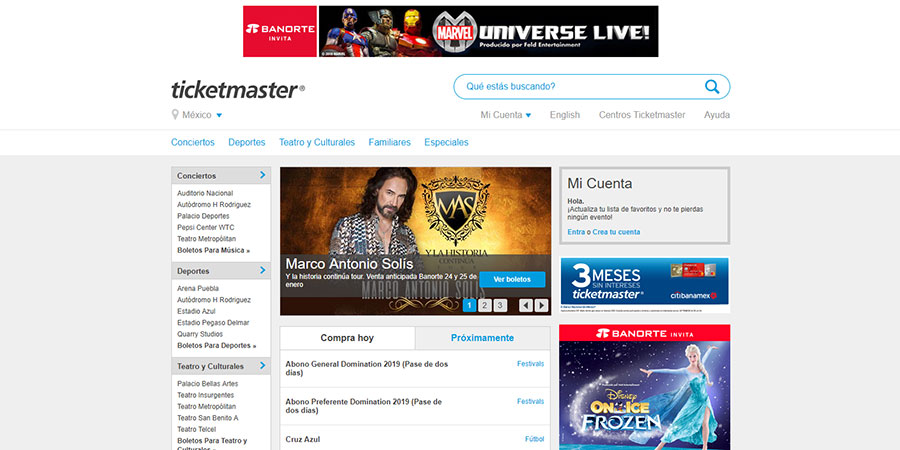 Ticketmaster is an American ticket sales and distribution company. Founded in 1976, Ticketmaster originally was selling tickets to concerts and events offline. Its merger with Live Nation allowed Ticketmaster to keep expanding and produce live concerts in more than 50 countries. In the meantime, Ticketmaster also developed its online presence in many countries, including Mexico, where it is now a key online seller of tickets for music, sports, and other events.
Website: ticketmaster.com.mx – Estimated monthly traffic: 4.2 Million visits
8. Home Depot Mexico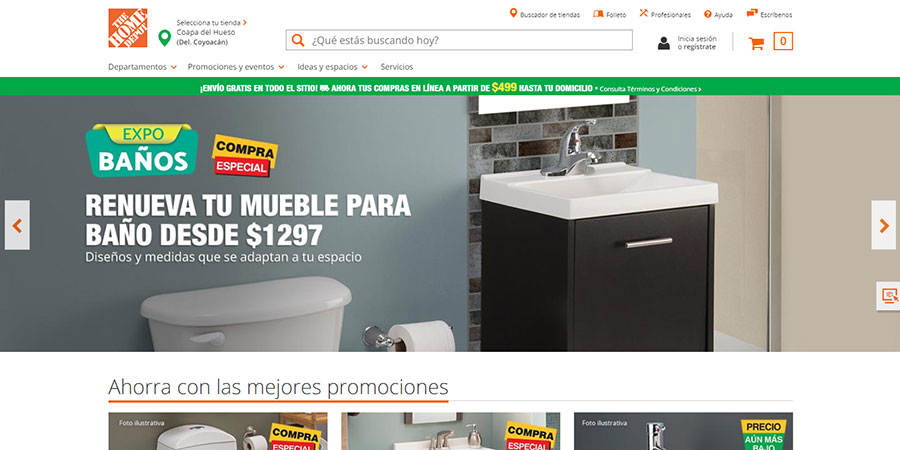 Home Depot is the largest hardware and home improvement supplies retailing company in the United States, also operating in Canada and Mexico. In its brick-and-mortar shops and online store, Home Depot sells tools, construction products, home and garden equipment furniture and associated services.
Website: homedepot.com.mx – Estimated monthly traffic: 5.2 Million visits
7. Sears Mexico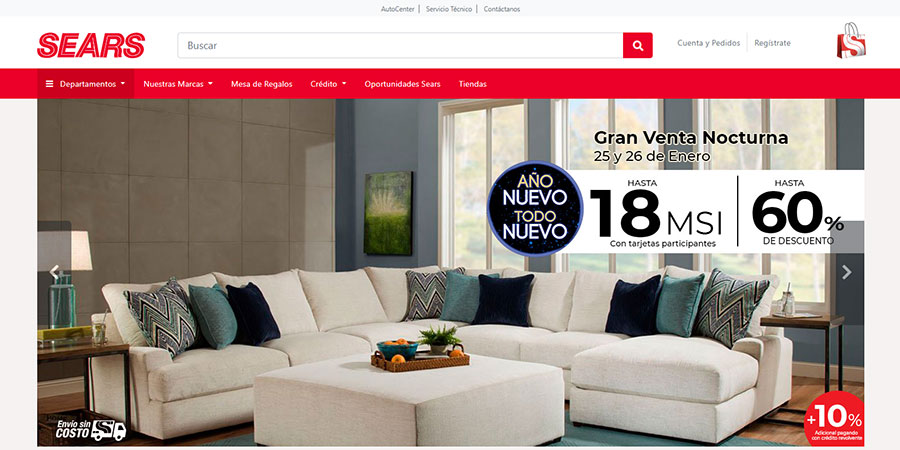 Sears is an American chain of department stores, owned and operated in Mexico by Grupo Carso. Even though Sears has had difficulties in the United States, Sears Mexico is doing well with more than 75 stores across Mexico. Also selling its products online, Sears provides clothing and accessories, home appliances and furniture, cosmetics, tools, and electronics.
Website: sears.com.mx – Estimated monthly traffic: 6.45 Million visits
6. Sam's Club Mexico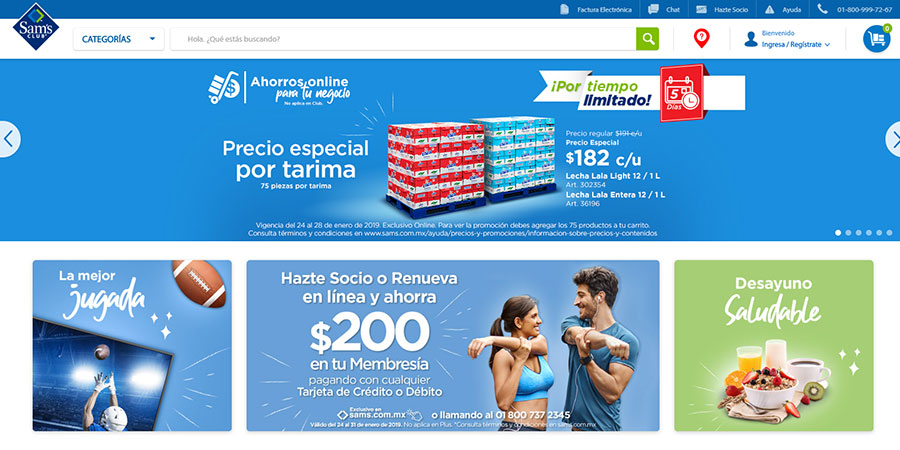 Sam's Club is an American chain of membership-only retail warehouse clubs of Sam's West, Inc., a company belonging to Walmart. As a membership-only store, Sam's Club provides a range of electronics and home appliances, furniture, food, family and hygiene products. It also sells its products online through an e-commerce platform which has taken an important share of the market in Mexico.
Website: sams.com.mx – Estimated monthly traffic: 7.4 Million visits
5. Liverpool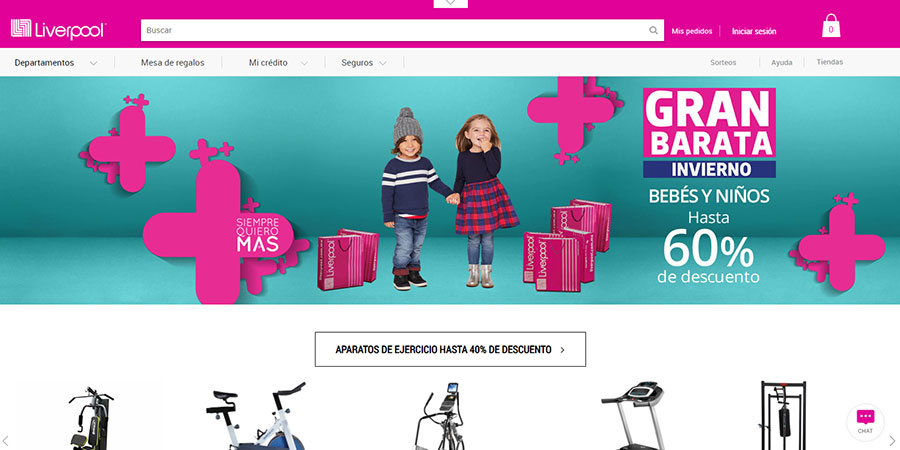 Liverpool is a retail company operating a chain of department stores in Mexico, operated by the company El Puerto de Liverpool Limited. Through its stores as well as its online platform, Liverpool primarily sells clothes and accessories, electronics, home decoration, furniture, toys, and specialty food throughout Mexico.
Website: liverpool.com.mx – Estimated monthly traffic: 9.8 Million visits
4. Walmart Mexico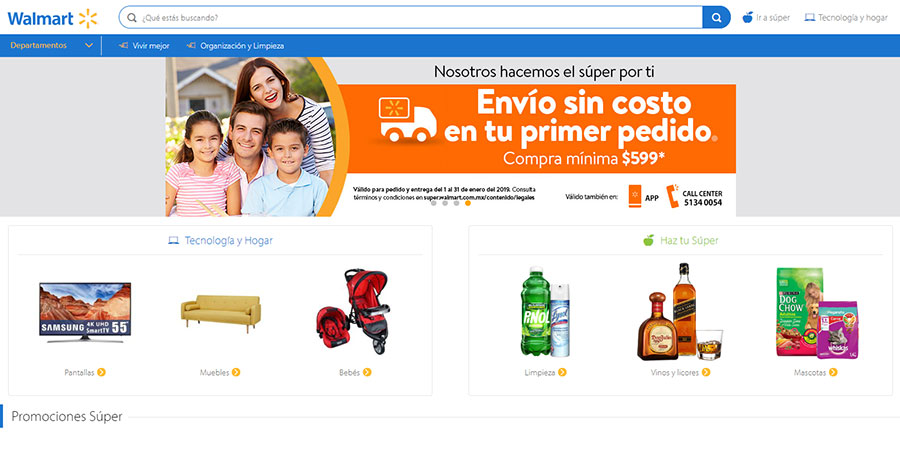 Walmart is the world's largest retail corporation, operating hypermarkets, department stores, and grocery stores. A leader in the United States, among other countries Walmart is also engaged in Mexico through its subsidiary Walmart de Mexico, also known as Walmex, one of the largest companies in Mexico. Its online shop sells a diversified range of products, from food to electronics, from fashion to pharmacy, from home equipment to auto-parts.
Website: walmart.com.mx – Estimated monthly traffic: 15.7 Million visits
3. Coppel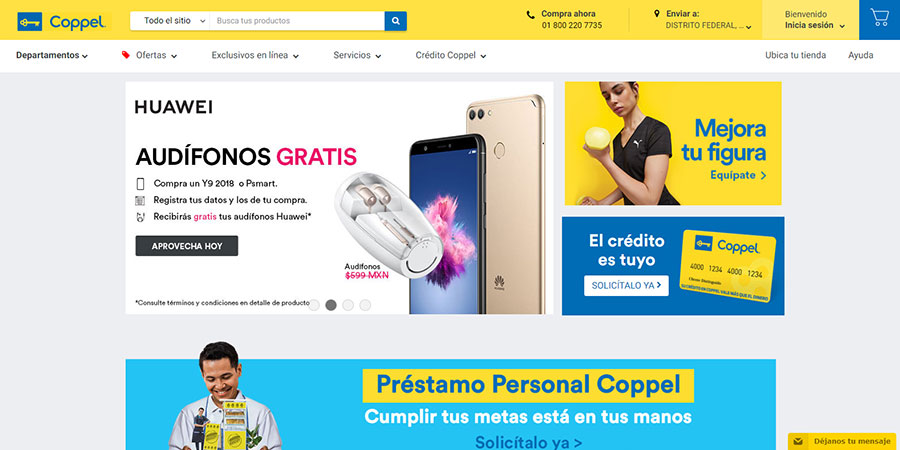 Founded in Mexico in 1941, Coppel is a chain of department stores. Selling electronics, home decoration, appliances, clothes, and accessories, as well as auto parts, sports goods, and travels, Coppel operated through more than 20 brick-and-mortar stores as well as its online e-commerce platform.
Website: coppel.com – Estimated monthly traffic: 17.6 Million visits
2. Amazon Mexico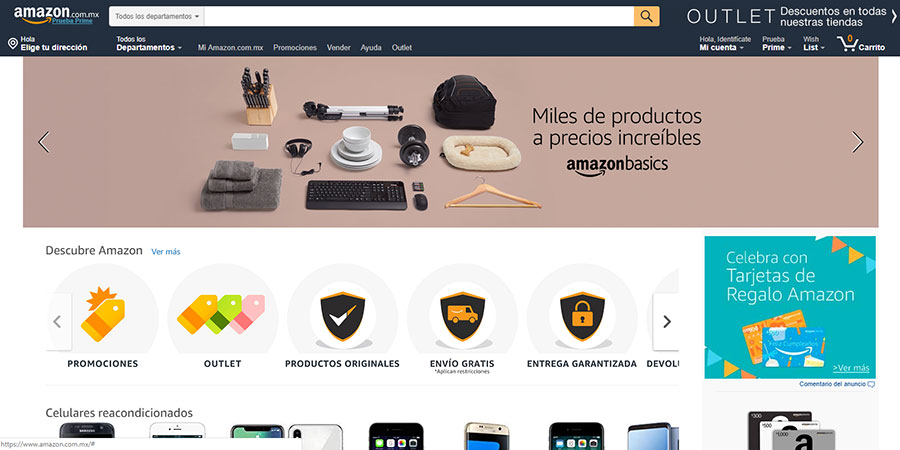 Founded in the US in 1994, Amazon started as an online bookstore that later diversified to products including media, electronics, apparel, furniture, food, toys, and jewelry. Having expanded to many countries, including Mexico, Amazon has become the uncontested leader of e-commerce in the US and globally, and developed further into brick-and-mortar retail with the acquisition of Whole Foods Market, as well as publishing, electronics, cloud computing, video streaming, and production.
Website: amazon.com.mx – Estimated monthly traffic: 41.3 Million visits
1. Mercado Libre Mexico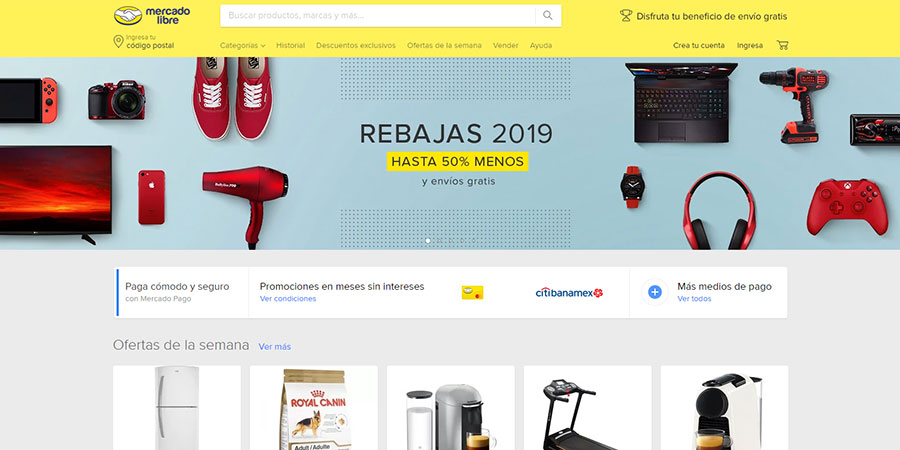 Beating the American giants, the leader of e-commerce in Mexico is Mercado Libre Mexico, a marketplace developed by the Argentinian e-commerce and electronic payment company Mercado Libre. Allowing people and business to sell their products through a wide range of categories, from electronics and home appliances to autos and accessories, from fashion to toys and furniture, and even property, Mercado Libre is present in multiple countries of Latin America, reaching more than 170 million customers and notably also a leader of e-commerce sites in Brazil.
Website: mercadolibre.com.mx – Estimated monthly traffic: 108.5 Million visits
Top e-commerce websites in Mexico compared by estimated traffic
The estimated monthly traffic from the top 10 e-commerce platforms previously shows the domination of Mercado Libre de Mexico and Amazon, who stands far above the other players, respectively above 108 and 40 million monthly visits. The first group of followers stands in the 15 million monthly visits, Coppel and Walmart Mexico. The pack of followers is a bit behind, in the range of traffic volumes from 3 to 10 million visits per month.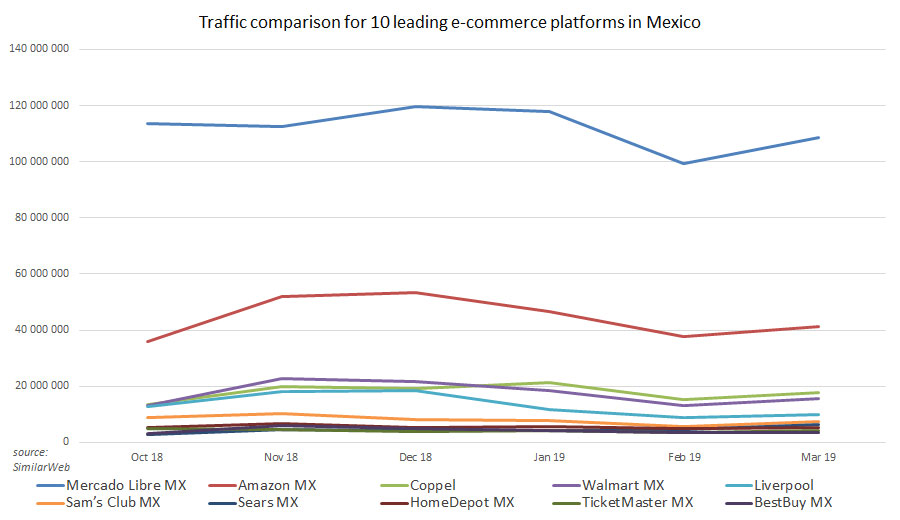 Top brands conducting business through e-commerce in Mexico
Besides these platforms that operate through a wide array of products, some brands can also be remarked for particularly standing out, thanks to their large reach of the Mexican online audience. Even though they operate in the cinema industry which is not delivering products, Cinepolis and Cinemex still sell a lot of movie tickets through their websites, with over 13 and 6 million visits per month respectively.
Furthermore, Volaris, a Mexican low-cost airline also reaches a large audience through its website, with more than 7 million visits per month. Though it does not deliver products either, Volaris sells plane tickets to a large number of customers, making it the leader in its category online.
Here are the top e-commerce platforms in Mexico. Have you ever bought goods or services from them? How was the experience, is the price cheaper and the delivery convenient? Let us know in the comments below!