One of the large European countries and economies, Spain is a mid-sized, developed and solvable market for online shopping. Dominated by leading American e-commerce companies, the Spanish market is competitive with multiple foreign companies and some local, established stores and pure e-commerce players managing to hold their ground.
The Spanish internet and e-commerce landscape counts tens of millions of users, but it is rather in the mid-sized range of markets compared to other countries like the US or even European leaders like the UK and Germany. With 42 million internet users, the Spanish digital population is still quite affluent and accustomed to e-commerce and its convenience. Spaniards often use both computers and mobile devices to access the internet and shop online for a wide array of goods and services.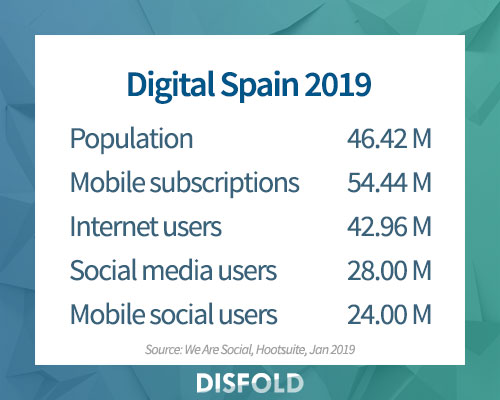 Since the Spanish market is rather advanced, with high penetration and good solvency, the competition is fairly intense. Amazon, having developed an advantage thanks to its home market size and early development, has also come to overwhelming dominate the Spanish e-commerce market. And multiple foreign companies, from America, China, Germany, and France have also taken a large share of the remains of the e-commerce market.
However, a specialized brick-and-mortar retailer, El Corte Inglés, has been able to take a good share of the market. And another Spanish semi-specialized online electronics retailer, PC Componentes, who mostly sells online but for two physical stores, has also been able to take a share of the market thanks to its focus on key categories: electronics and computer parts.
For more information on other world-leading e-commerce actors, check our series of posts on Top E-commerce Sites, and for more information on the country, read our articles on Top Business Resources for Spain.
List of top Spanish e-commerce platforms with estimated traffic
To give you more perspective of the state of the market competition in the Spanish e-commerce landscape, here are the current top 10 leaders of e-commerce platforms in Spain in 2019 and their estimated monthly traffic from SimilarWeb, as of November 2019.
10. Fnac Spain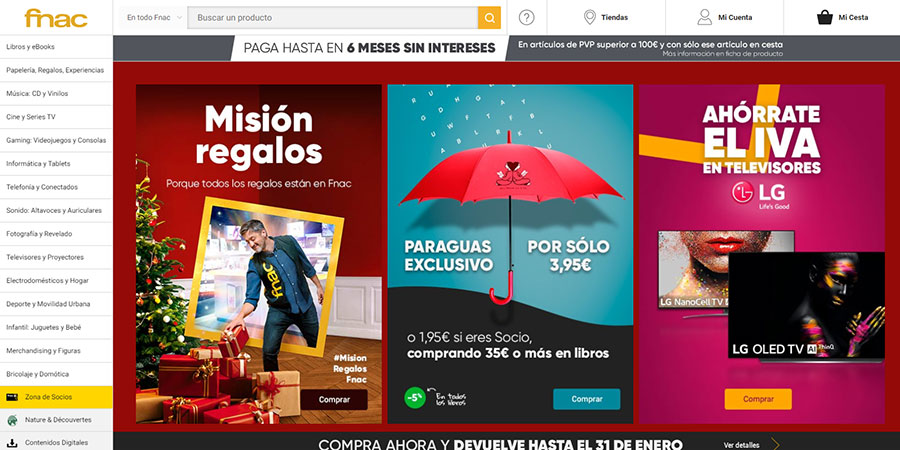 Fnac is originally a French chain of stores selling cultural and electronic products including audio, books, CDs, computer software and hardware, DVDs, televisions and video games. Having expanded to Spain, Portugal, Belgium, Brazil, and Switzerland, Fnac has also developed its activities online through an e-commerce store.
Website: fnac.es – Estimated monthly traffic: 6.65 Million visits
9. Zalando Spain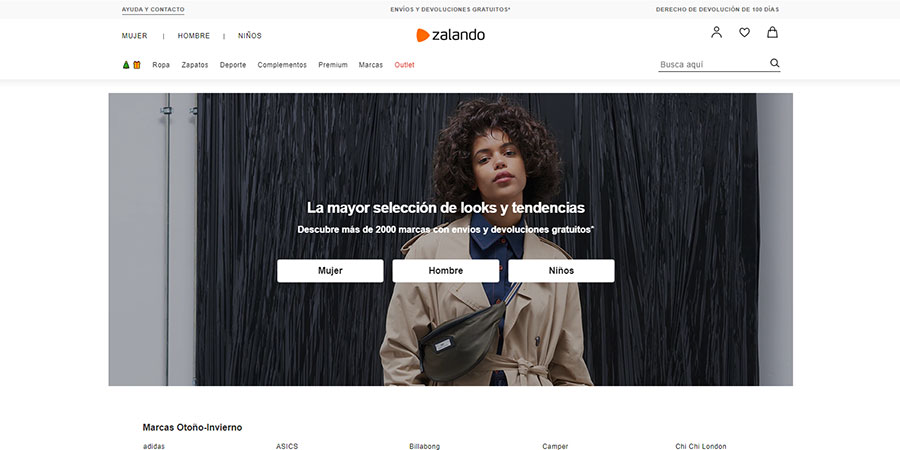 Zalando is a German e-commerce company specialized in the online selling of fashion, shoes, beauty items, accessories, and sports items. Founded in 2008 by Rocket Internet, Zalando has expanded its operations to fifteen European countries, including Spain, and worldwide with spin-offs and subsidiary companies. Its largest shareholder is now the Swedish investment company Kinnevik.
Website: zalando.es – Estimated monthly traffic: 7.95 Million visits
8. Decathlon Spain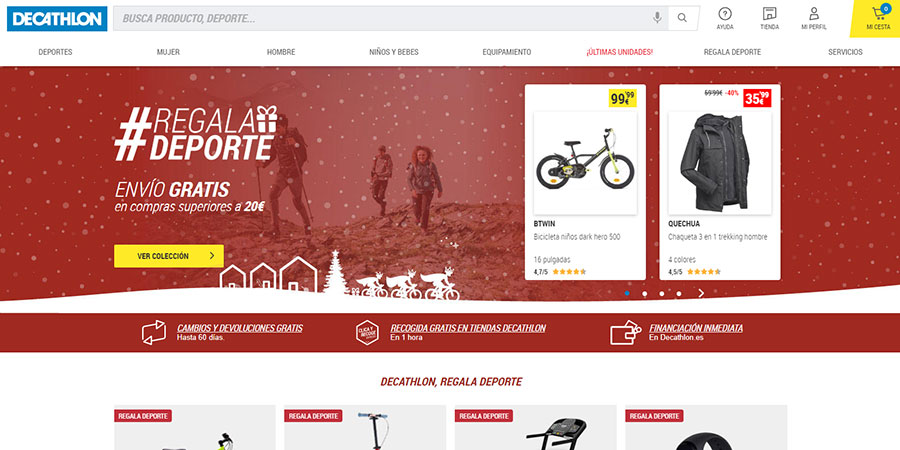 Decathlon is a French sporting goods chain of retail stores. Selling a wide range of sports equipment, shoes, clothing, and accessories for all types of sports, Decathlon has expanded to multiple countries of Europe, including Spain, South America, Asia-Pacific, and Africa. It has also developed its own brands of sports goods and clothing, and created an e-commerce platform to sell its products online.
Website: decathlon.es – Estimated monthly traffic: 10.5 Million visits
7. PC Componentes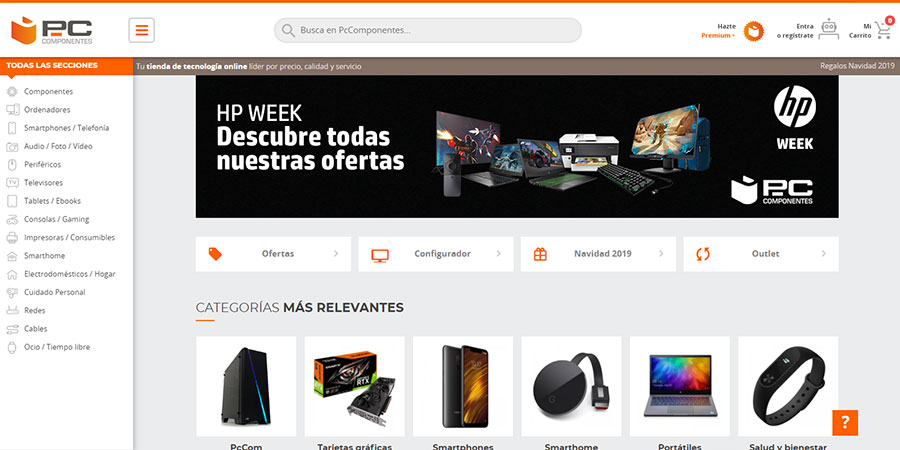 PC Componentes is a specialized online retailer of consumer electronics, including PCs, laptops, tablets, smartphones, gaming consoles and electronic components such as peripherals, networks, cables as well as other related electronic products. Operating two stores in Madrid and Murcia, PC Components is primarily operating through its e-commerce store and delivering throughout Spain.
Website: pccomponentes.com – Estimated monthly traffic: 13.7 Million visits
6. Carrefour Spain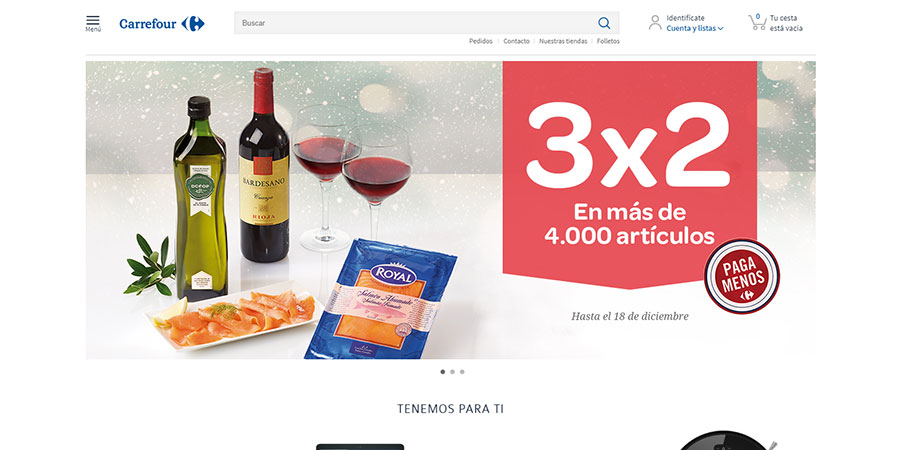 One of the world's largest retailer and one of the largest French companies, Carrefour operates hypermarkets and convenience stores selling a wide range of products from groceries and fresh food, home, and hygiene products to clothing, entertainment, media, and electronics. Having expanded throughout Europe, including Spain, South America, and Asia, Carrefour also develops its activities online through its e-commerce platform.
Website: carrefour.es – Estimated monthly traffic: 18.2 Million visits
5. MediaMarkt Spain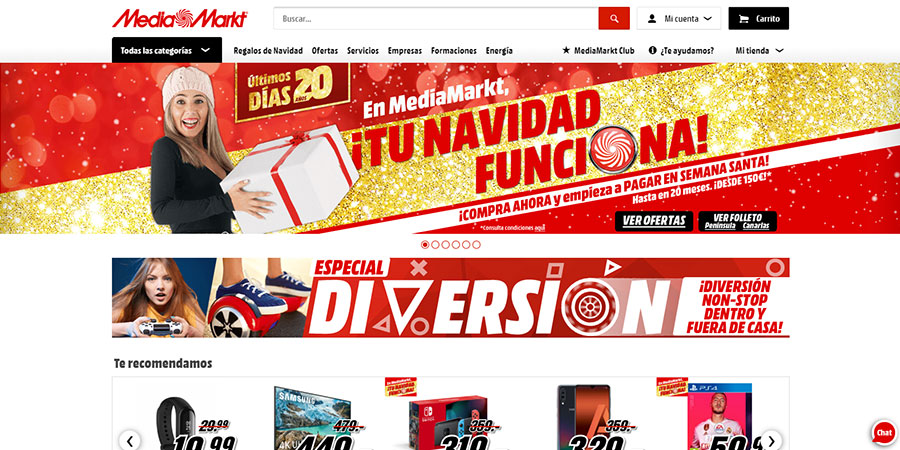 MediaMarkt is a German multinational chain of stores specialized in the retail of consumer electronics. Founded in 1979, MediaMarkt has expanded to multiple countries of Europe, including Spain, and through its online platform, to become the world's second-largest chain of consumer electronics, behind the American company Best Buy.
Website: mediamarkt.es – Estimated monthly traffic: 19 Million visits
4. AliExpress Español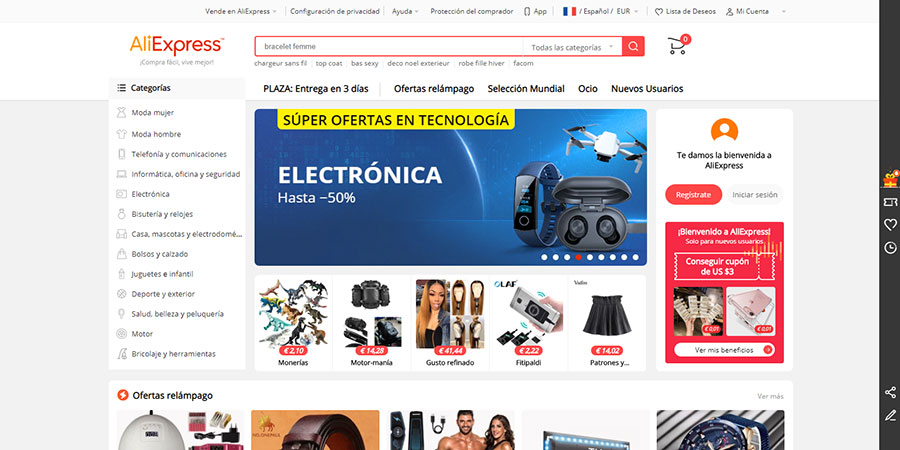 AliExpress is a specialized online retail store and marketplace. AliExpress allows companies and individuals to sell through its platform a broad range of products including clothing and accessories, mobile phones and electronics, jewelry, home decoration, and sports products. Based in China and owned by the Alibaba Group, AliExpress particularly gathers a range of products from China and other Asian countries to be sold internationally, notably in Spain.
Website: es.aliexpress.com – Estimated monthly traffic: 23.9 Million visits (AliExpress Spain's traffic is estimated from the Spanish share of the AliExpress website global traffic)
3. eBay Spain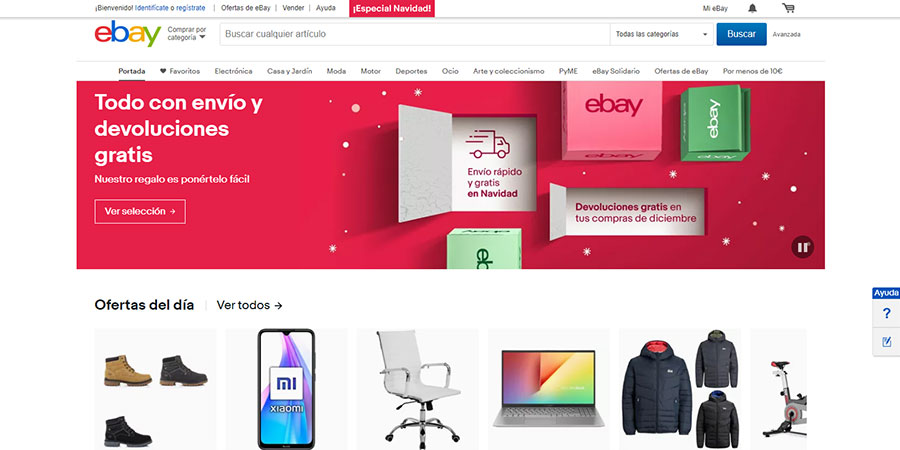 A pioneer of e-commerce, eBay is an American online marketplace that allows people and businesses to sell directly through its online auction platform. Founded in 1995, eBay has expanded to more than 20 countries including Spain, organizing the sale of products ranging from cars and vehicles to electronics and fashion, home and garden to sports and toys, and even business and industrial products.
Website: ebay.es – Estimated monthly traffic: 27.1 Million visits
2. El Corte Inglés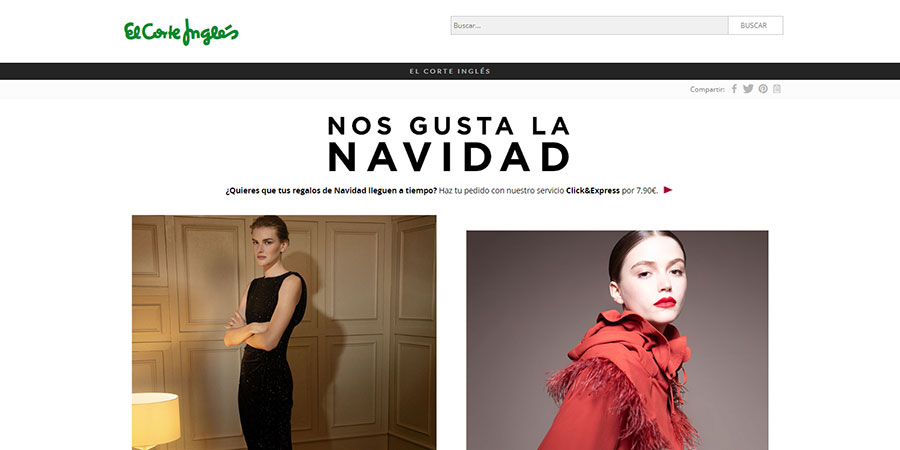 El Corte Inglés is a chain of department stores selling a range of clothing and designer fashion, household items and furniture in almost 100 stores and through its website. Founded in 1890, El Corte Inglés has expanded throughout Spain and in Portugal, becoming the largest Spanish department store chain.
Website: elcorteingles.es – Estimated monthly traffic: 36.9 Million visits
1. Amazon Spain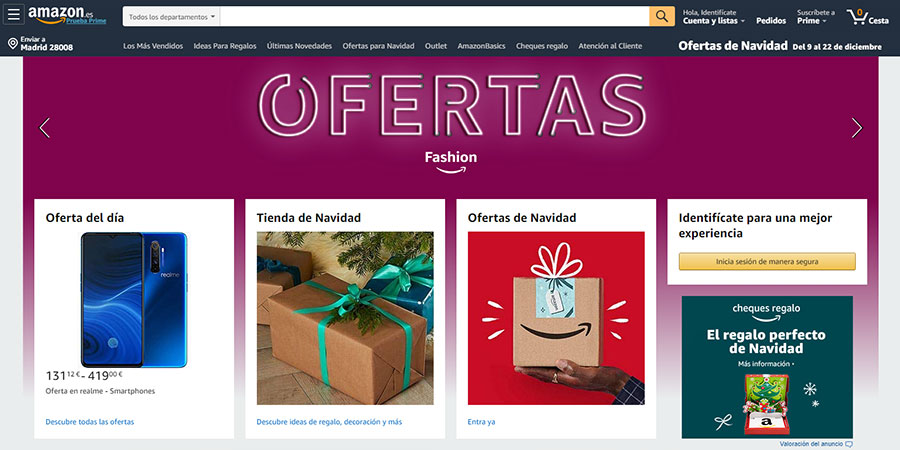 Founded in the US in 1994, Amazon started as an online bookstore that later diversified to products including media, electronics, apparel, furniture, food, toys, and jewelry. Amazon is the number one of American online shopping sites, and, having expanded to many countries, including Spain, it has become the uncontested global leader of e-commerce, before developing further into brick-and-mortar retail with the acquisition of Whole Foods Market, as well as publishing, electronics, cloud computing, video streaming, and production.
Website: amazon.es – Estimated monthly traffic: 172 Million visits
Top e-commerce websites in Spain compared by estimated traffic
The estimated monthly traffic from the top 10 e-commerce platforms previously listed demonstrate the domination of Amazon, who stands far above the other players, above 170 million monthly visits. The pack of followers is well established in the range of traffic volumes from 5 to 40 million visits per month.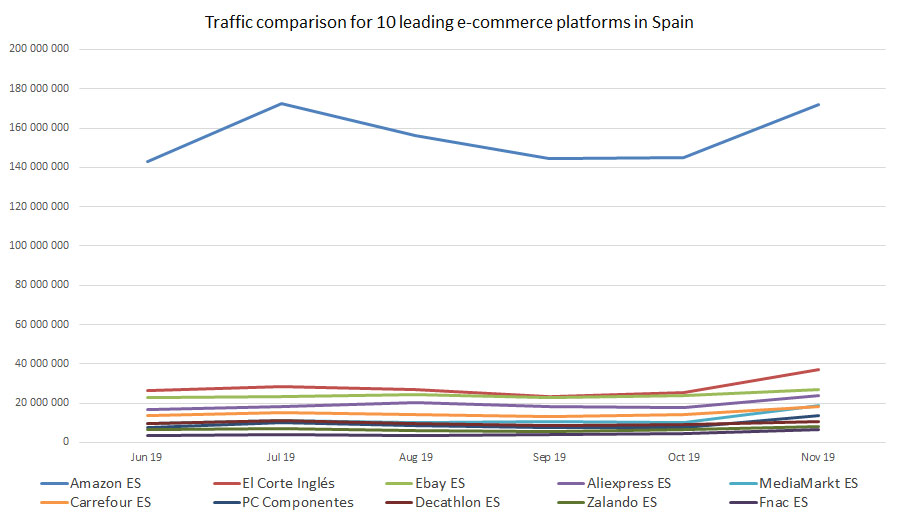 Top brands conducting business through e-commerce in Spain
Besides these platforms operating through a wide array of products, some brands can also be highlighted for particularly standing out online, thanks to their importance in the Spanish economy.
In the world of fashion and clothing, some Spanish companies have managed to gain a real global foothold. The leading brand of these clothing companies, Zara, can be especially highlighted as it reaches a massive global audience online with more than 80 million visits per month, of which about 9% come from Spain.
The Spanish national airline and its low-cost airline can also be both underlined. Since they conduct a large portion of their ticket sales via their websites, Iberia and Vueling also stand out from the digital crowd, with about 6 million visits per month.
Here are the top e-commerce platforms in Spain. Have you ever bought goods or services from them? How was the experience, is the price cheaper and the delivery convenient? Let us know in the comments below!