Brazil is a large and rapidly growing market for online shopping. Not dominated by American giants, an interesting competition is unfolding between traditional department stores expanding online and specialized e-commerce players fighting to expand their presence in this key market.
The Brazilian internet and e-commerce landscape already counts hundreds of millions of users but it is still far from being mature. With 150 million internet users, Brazilian internet users are still only 70% of the total population of 210 million. Brazil is a large country with medium income, and Brazilians are fairly accustomed to e-commerce and its convenience. They often use mobile devices to access the internet and shop online for a number of goods and services, making Brazil a particularly large e-commerce market that is not far from reaching maturity.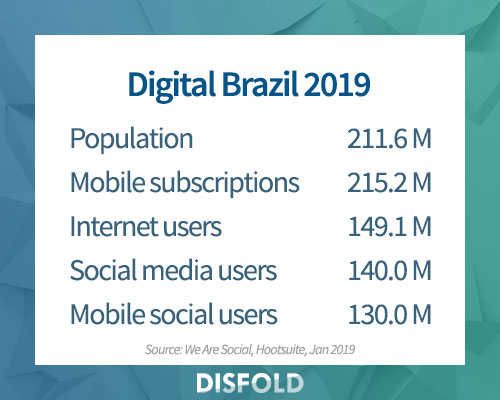 With the Brazilian market reaching maturity and a number of players in the market, competition is already very intense. With limited room and potential for growth, local and foreign players are fighting to take each other's share and position themselves to grab the remaining online shoppers to come. Brazilian department stores and non-US e-commerce platforms have managed to become solid competitors through the maturation of the market, even beating the global e-commerce leader, Amazon.
Mercado Livre (originally from Argentina) has thus been able to become the leader in Brazil, trailed by Americanas.com, the online platform of the department store Lojas Americanas. Only in third place does Amazon arrive, before a number of local specialized and generalist retail chains, as well as some national, pure e-commerce players.
For more information on other world-leading e-commerce actors, check our series of posts on Top E-commerce Sites, and for more information on the country, read our articles on Top Business Resources for Brazil.
List of top Brazilian e-commerce platforms with estimated traffic
To give you more perspective of the state of the market competition in the Brazilian e-commerce landscape, here are the current top 10 leaders of e-commerce platforms in Brazil in 2019 and their estimated monthly traffic from SimilarWeb, as of March 2019.
10. Shoptime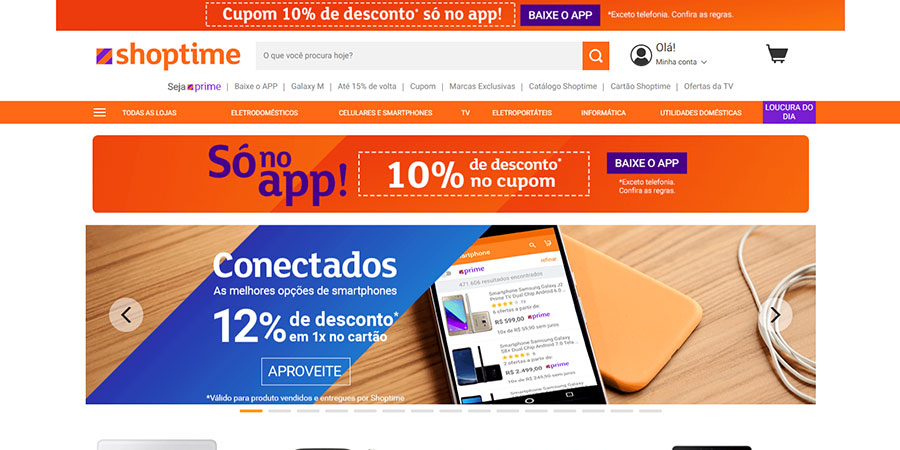 Shoptime is a retail company founded upon a home shopping channel, TV Shoptime, and a catalog of direct sales to the consumer, that later expanded to develop its e-commerce site. Established in 1995, Shoptime has been acquired by the group B2W Digital, which also owns the retail chain Lojas Americanas, and the e-commerce websites Americanas.com and Submarino (see #2 and #6 respectively).
Website: shoptime.com.br – Estimated monthly traffic: 16.4 Million visits
9. Dafiti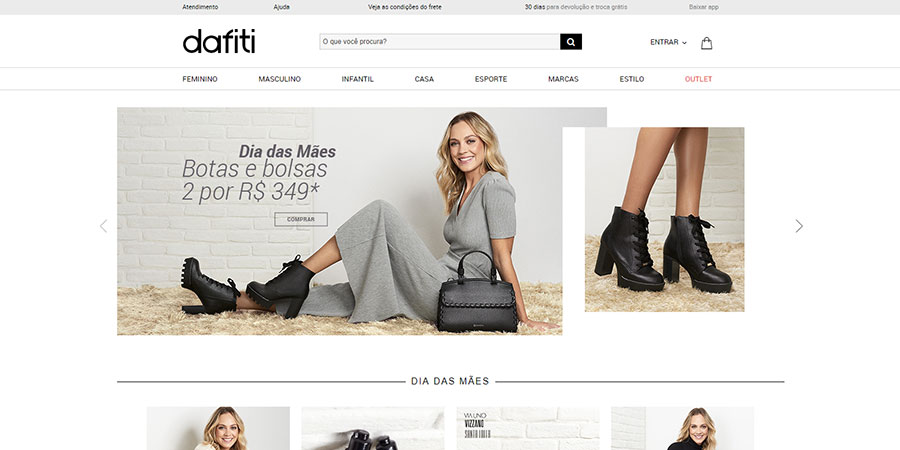 Dafiti is a specialized fashion and footwear e-commerce platform. Founded in 2011, Dafiti has developed its operations from footwear to other categories of men and women fashion, sports and home products. The success of Dafiti in Brazil has allowed the Dafiti group to expand operations to Argentina, Chile, and Colombia.
Website: dafiti.com.br – Estimated monthly traffic: 19.1 Million visits
8. Extra.com.br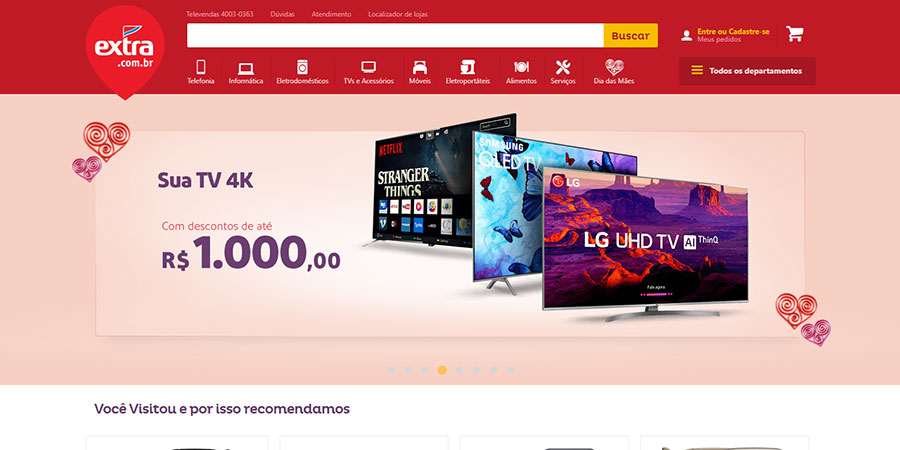 Extra is a retail chain of supermarkets, hypermarkets, and mini-markets. Even though Extra provides a diverse range of products in its brick-and-mortar stores, the online shop Extra.com.br is more specialized in consumer electronics, home equipment and appliances, while a separated website, Clube Extra, is dedicated to food, hygiene, and other groceries products.
Website: extra.com.br – Estimated monthly traffic: 19.6 Million visits
7. Netshoes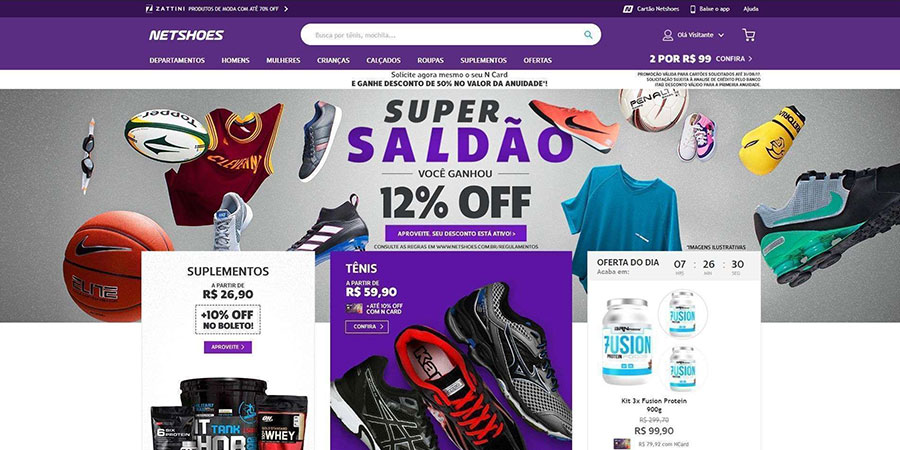 Netshoes is a specialized sporting goods e-commerce store. Founded in 2000 as a sports retail chain, Netshoes has rapidly focused its activities on e-commerce, providing an array of footwear, clothing, and accessories for sports. Launched in Brazil, Netshoes has also quickly developed in Argentina and Mexico. It has become a key partner in Latin America to manage online stores for brands including football (soccer) clubs, global sportswear brands, and it is the official representative of the National Basketball Association (NBA).
Website: netshoes.com.br – Estimated monthly traffic: 27.6 Million visits
6. Submarino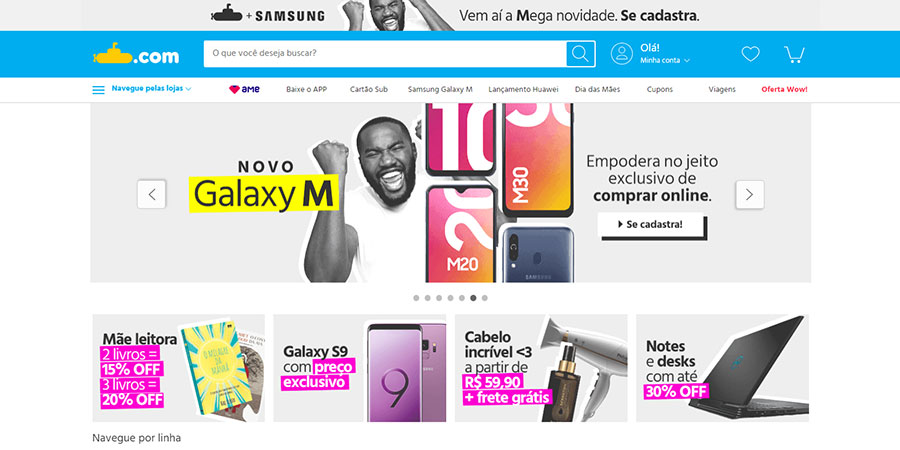 Founded in 1999, Submarino was one of the pioneers of e-commerce in Brazil. It sells a wide array of products including consumer electronics, books, clothing and accessories, beauty products and drinks. Created in 1999, Submarino is now part of the B2W Digital group, a leader of e-commerce in Brazil, also owning Shoptime (#10) and Americanas.com (#2).
Website: submarino.com.br – Estimated monthly traffic: 28.6 Million visits
5. Casas Bahia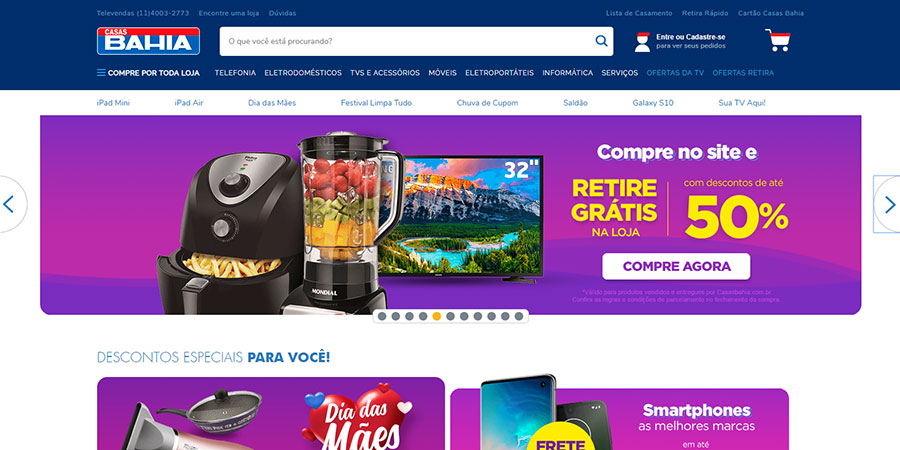 Casas Bahia is a retail chain specializing in furniture and home appliances. Founded in 1952, Casas Bahia now operates more than 700 stores across Brazil, and it has also developed its online sales with its e-commerce store. Selling primarily furniture and home appliances, Casas Bahia also provides consumer electronics and computers, together with a range of services to consumers and businesses.
Website: casasbahia.com.br – Estimated monthly traffic: 37.1 Million visits
4. Magazine Luiza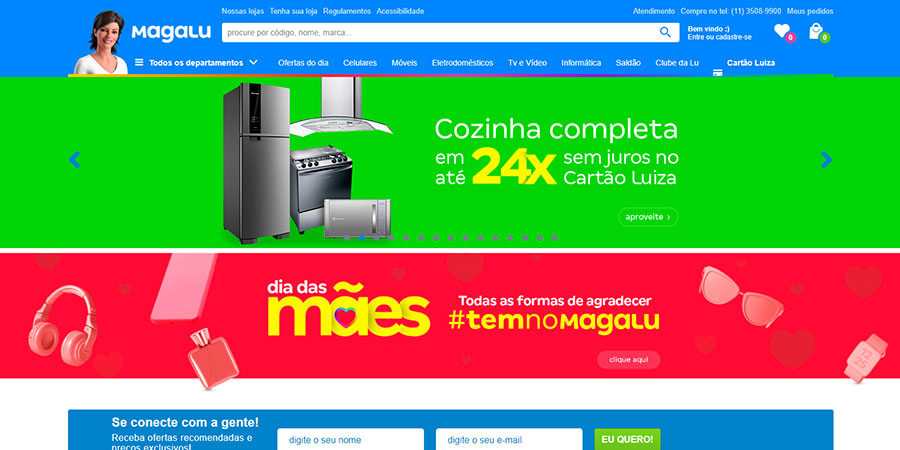 Magazine Luiza is one of the largest retail companies in Brazil, operating more than 800 department stores throughout the country. Founded in 1957, the company has expanded online, using the shorter name "Magalu" where it sells a range of products including consumer electronics, furniture and home appliances, television, media equipment, and computers.
Website: magazineluiza.com.br – Estimated monthly traffic: 49.3 Million visits
3. Amazon Brazil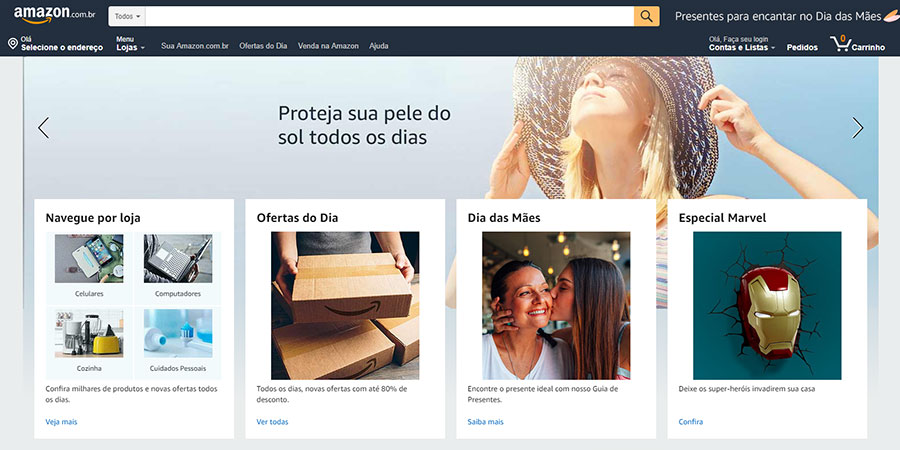 Founded in the US in 1994, Amazon started as an online bookstore that later diversified to products including media, electronics, apparel, furniture, food, toys, and jewelry. Having expanded to many countries, including Brazil, Amazon has become the uncontested leader of e-commerce in the US and many countries and developed further into brick-and-mortar retail with the acquisition of Whole Foods Market, as well as publishing, electronics, cloud computing, video streaming, and production.
Website: amazon.com.br – Estimated monthly traffic: 51.5 Million visits
2. Americanas.com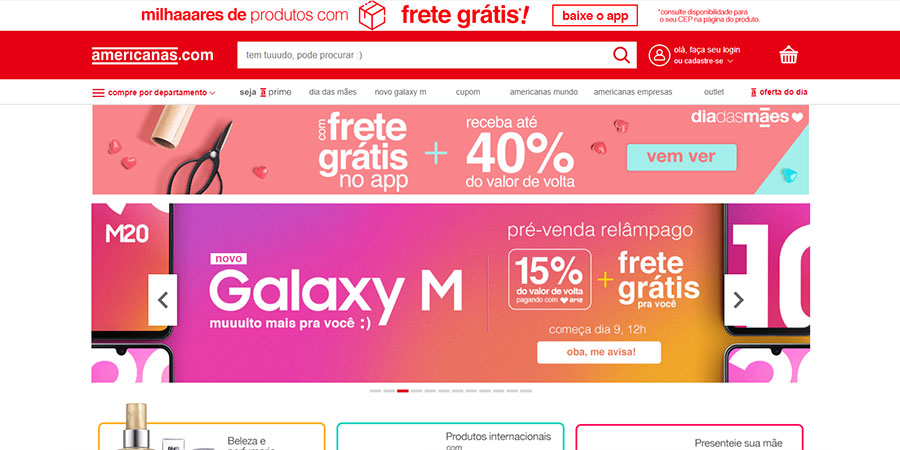 Americanas.com is the online portal of the retail chain Lojas Americanas. Lojas Americanas operates three types of stores that can be related to local convenience stores, supermarkets, and hypermarkets. It primarily sells consumer and media electronics, home appliances and furniture, beauty products, and toys. The online platform is the leading Brazilian e-commerce store, part of the B2W Digital group with Shoptime (#10) and Submarino (#6).
Website: americanas.com.br – Estimated monthly traffic: 119.5 Million visits
1. Mercado Livre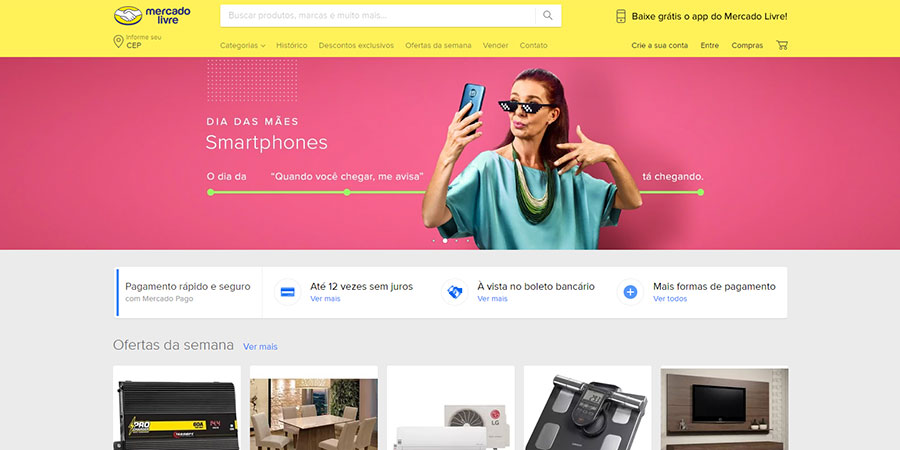 Beating the American giants, the leader of e-commerce in Brazil is Mercado Livre, a marketplace developed by the Argentinian e-commerce and electronic payment company Mercado Libre. Allowing people and business to sell their products through a wide range of categories, from electronics and home appliances to autos and accessories, from fashion to toys and furniture, and even property, Mercado Libre is present in multiple countries of Latin America, reaching more than 170 million customers and notably also a leader of e-commerce sites in Mexico.
Website: mercadolivre.com.br – Estimated monthly traffic: 331 Million visits
Top e-commerce websites in Brazil compared by estimated traffic
The estimated monthly traffic from the top 10 e-commerce platforms previously shows the domination of Mercado Livre, standing far above the other players above 330 million monthly visits, before Americanas.com at more than 110 million monthly visits. The pack of followers is quite behind, in the range of traffic volumes from 15 to 50 million visits per month.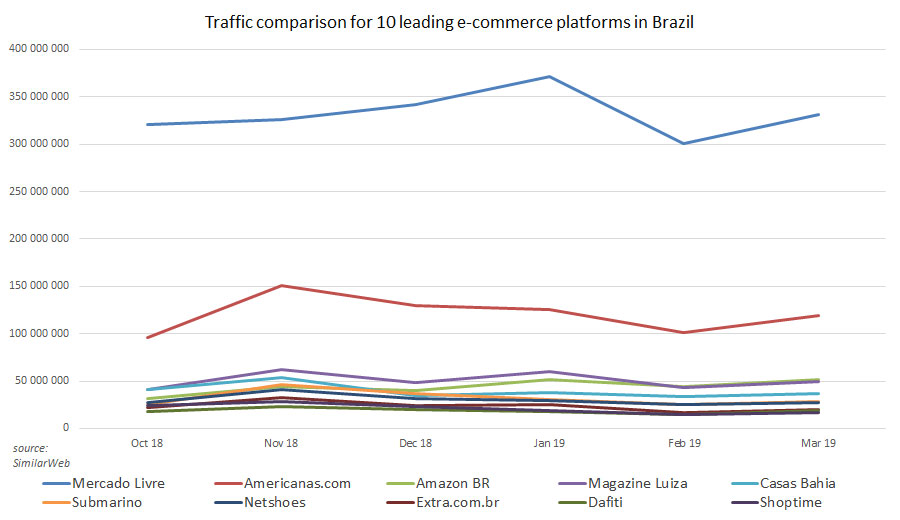 Top brands conducting business through e-commerce in Brazil
Besides these platforms that operate through a wide array of products, some brands can also be remarked for particularly standing out, thanks to their large reach of the Brazilian online audience. Operating in the fields of classified listings, OLX Brazil has managed to develop a massive online audience with more than 100 million visits per month.
Besides, the online price comparison website Buscape can also be remarked, with more than 20 million visits per month. Though it is not directly involved in online sales, it is still very much engaged in e-commerce through the referral traffic it sends to other e-commerce platforms.
Here are the top e-commerce platforms in Brazil. Have you ever bought goods or services from them? How was the experience, is the price cheaper and the delivery convenient? Let us know in the comments below!