The most populated European country, Germany is a rather large, developed and very solvable market for online shopping. Dominated by leading American e-commerce companies, Germany still has room for competitors, as it is an important market for both established stores and pure e-commerce players to spring up.
The German internet and e-commerce landscape can be compared to the United States: even though it only has 79 million internet users, a portion of the US digital population, the wealth of the Germans and their habits of using e-commerce make it one of the world's most sophisticated market. The Germans use both computers and mobile devices for online shopping, buying a wide array of goods and services through the internet.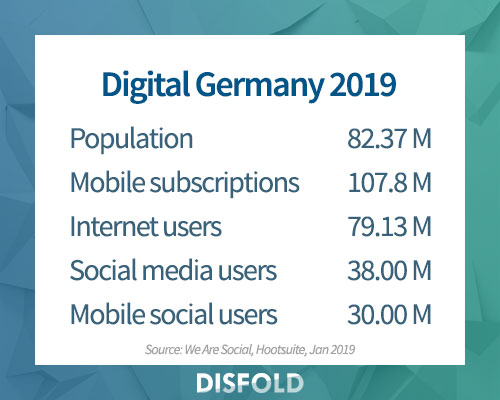 Since the German market is technologically advanced, with high penetration and solvency, the competition is very fierce. And since American companies have developed an advantage thanks to their home market size and early development, the German e-commerce market is under the domination of US platforms that operate in multiple segments, especially Amazon and eBay, who are by far the largest e-commerce players in Germany.
However, some specialized brick-and-mortar retailers, like MediaMarkt, Lidl and Thomann are still able to take a small share of the market. Other German pure e-commerce players, like Zalando, or Otto who evolved from mail order, have also been able to take a share of the market by focusing on some key categories such as fashion, furniture, and home appliances or electronics.
For more information on other world-leading e-commerce actors, check our series of posts on Top E-commerce Sites, and for more information on the country, read our articles on Top Business Resources for Germany.
List of top German e-commerce platforms with estimated traffic
To give you more perspective of the state of the market competition in the German e-commerce landscape, here are the current top 10 leaders of e-commerce platforms in Germany in 2019 and their estimated monthly traffic from SimilarWeb, as of February 2019.
10. Obi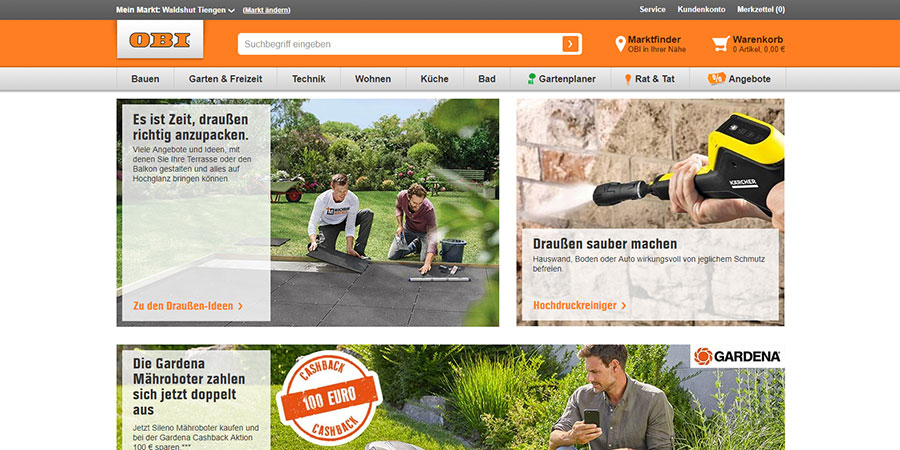 Obi is a German multinational retailing company specialized in home improvement supplies. Founded in 1970, Obi is the largest chain of brick-and-mortar DIY stores in Germany and Europe, with presence in many European countries, selling tools, construction products, home and garden equipment, furniture and associated services.
Website: obi.de – Estimated monthly traffic: 9.5 Million visits
9. Tchibo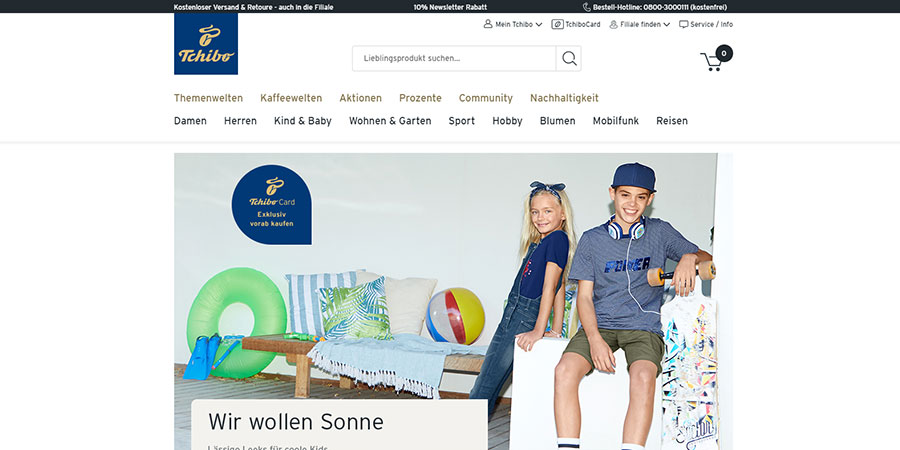 Tchibo is a coffee products retailer and chain of cafés that feature shops for a variety of weekly-changing non-coffee products including clothing, household items, electronics, and electrical appliances. Selling its coffee around the world, Tchibo has also expanded online through to sells its diversified products as well as services such as travel, insurance, and mobile phone contracts.
Website: tchibo.de – Estimated monthly traffic: 10 Million visits
8. Saturn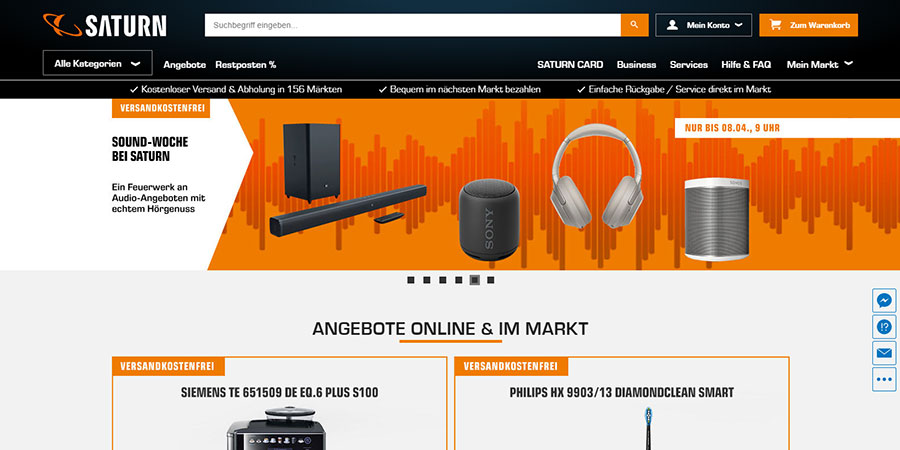 A German chain of electronics stores, Saturn sells household appliances, media, and home entertainment. Owned with MediaMarkt (see #4) by the retail trade company MediaMarktSaturn Retail Group together with other brands including Redcoon and iBood, Saturn has developed online through e-commerce as well as abroad, with stores in Austria, Luxembourg, and Russia.
Website: saturn.de – Estimated monthly traffic: 13 Million visits
7. Zalando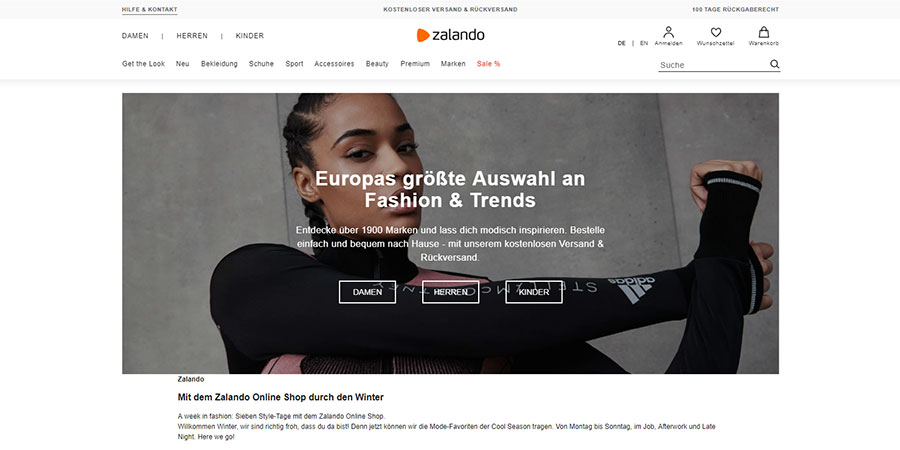 Zalando is a German e-commerce company specialized in the online selling of fashion, shoes, beauty items, accessories, and sports items. Founded in 2008 by Rocket Internet, Zalando has expanded its operations to fifteen European countries and worldwide with spin-offs and subsidiary companies. Its largest shareholder is now the Swedish investment company Kinnevik.
Website: zalando.de – Estimated monthly traffic: 14.3 Million visits
6. Thomann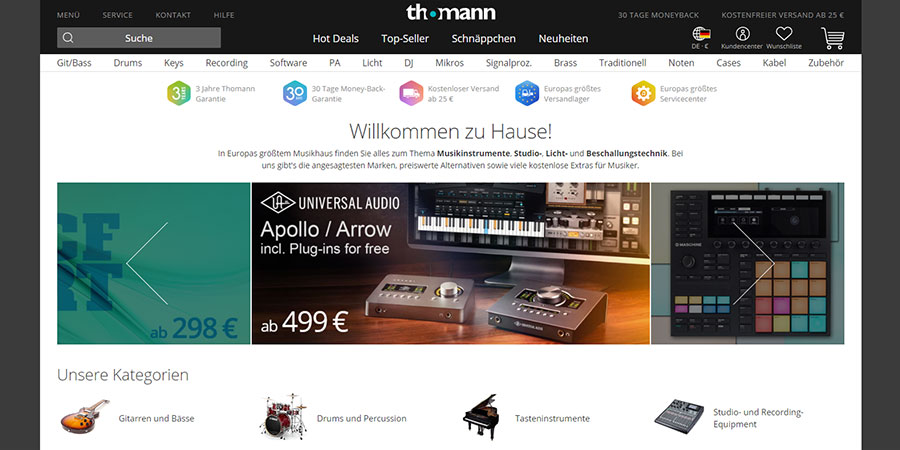 Musikhaus Thomann is a company specialized in the retail of musical instruments, studio, lighting, and pro-audio equipment from multiple brands. Founded in 1954,  Thomann has become widely known thanks to its large online e-commerce platform that is available in several European languages.
Website: thomann.de – Estimated monthly traffic: 19.6 Million visits
5. Lidl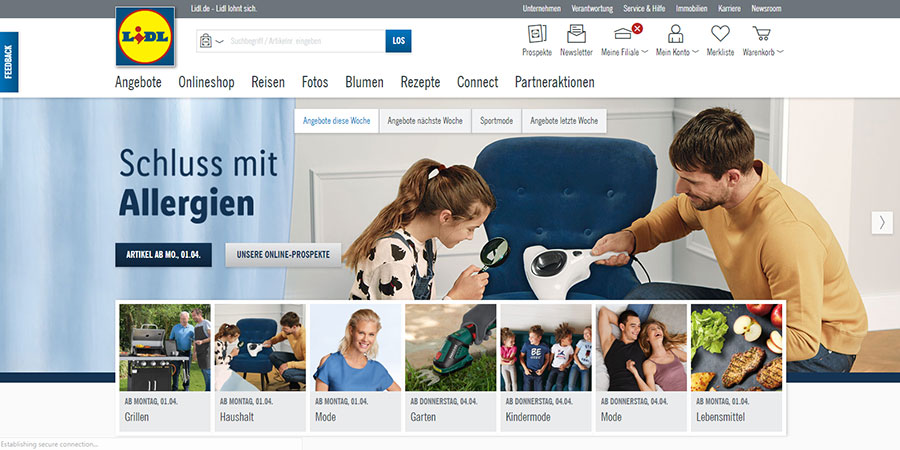 Lidl is a multinational discount supermarket chain from Germany, providing groceries as well as a diversified array of products and services. Founded in 1930 and focusing on discount markets since 1977, Lidl now operates more than 10,000 stores in almost every European country and in the United States. It has also greatly expanded online through its own e-commerce activities.
Website: lidl.de – Estimated monthly traffic: 21.5 Million visits
4. MediaMarkt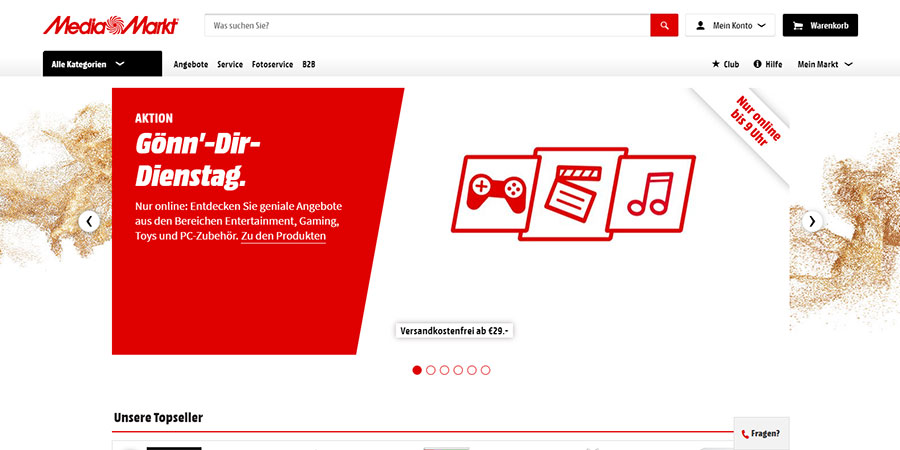 MediaMarkt is a German multinational chain of stores specialized in the retail of consumer electronics. Founded in 1979, MediaMarkt has expanded to multiple countries of Europe and through its online platform, to become the world's second-largest chain of consumer electronics, behind the American company Best Buy. It is owned with Saturn (see #8) by the MediaMarktSaturn Retail Group.
Website: mediamarkt.de – Estimated monthly traffic: 21.8 Million visits
3. Otto
Otto is a mail order and e-commerce company, selling a wide array of products from furniture and home appliances to fashion, sports material and electronics. Founded in Germany in 1949, Otto has expanded to more than 20 countries in Europe, Asia, and America acquiring multiple brands including the French company 3 Suisses. Having launched its online shop in 1995, Otto has become a key player for e-commerce in Germany and throughout Europe.
Website: otto.de – Estimated monthly traffic: 40.3 Million visits
2. eBay Germany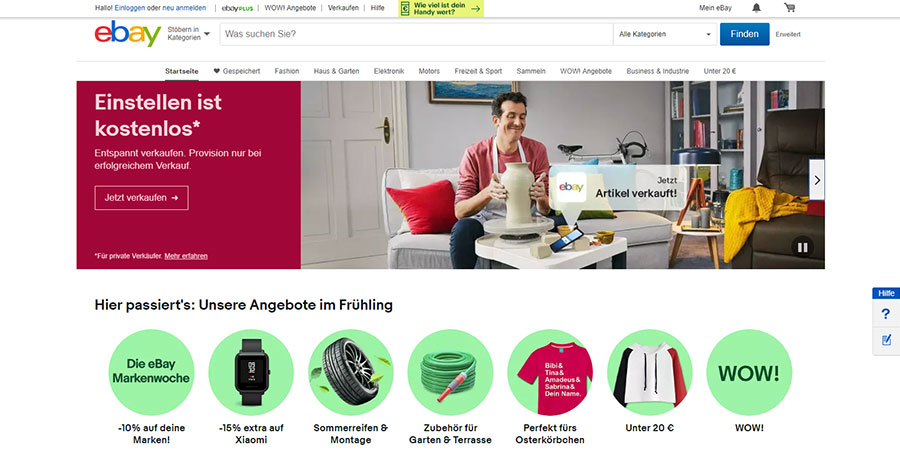 A pioneer of e-commerce, eBay is an American online marketplace that allows people and businesses to sell directly through its online auction platform. Founded in 1995, eBay has expanded to more than 20 countries including Germany, organizing the sale of products ranging from cars and vehicles to electronics and fashion, home and garden to sports and toys, and even business and industrial products.
Website: ebay.de – Estimated monthly traffic: 221 Million visits
1. Amazon Germany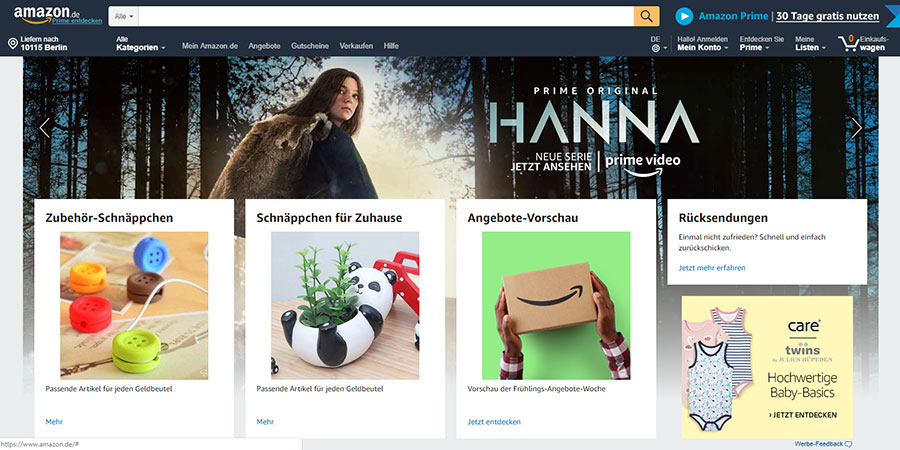 Founded in the US in 1994, Amazon started as an online bookstore that later diversified to products including media, electronics, apparel, furniture, food, toys, and jewelry. Having expanded to many countries, including Germany, Amazon has become the uncontested global leader of e-commerce and developed further into brick-and-mortar retail with the acquisition of Whole Foods Market, as well as publishing, electronics, cloud computing, video streaming, and production.
Website: amazon.de – Estimated monthly traffic: 434.5 Million visits
Top e-commerce websites in Germany compared by estimated traffic
The estimated monthly traffic from the top 10 e-commerce platforms previously listed demonstrate the domination of Amazon and eBay, who stand far above the other players, respectively above 430 and 220 million monthly visits. The pack of followers is well established in the range of traffic volumes from 10 to 40 million visits per month.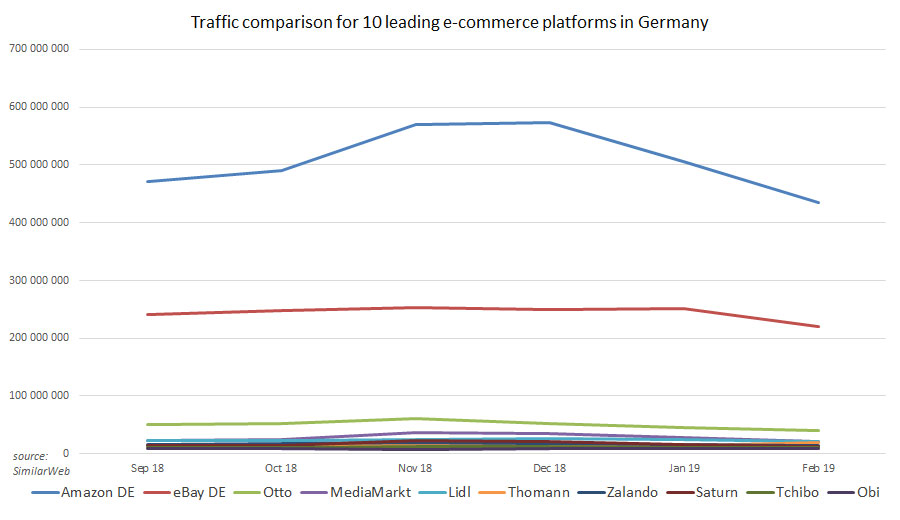 Top brands conducting business through e-commerce in Germany
Besides these platforms operating through a wide array of products, some brands can also be highlighted for particularly standing out online, thanks to their importance in the German economy.
Even though it is not an open e-commerce platform, Deutsche Telekom still manages to sell mobile phones and various telecommunication products and services on its website. It weighs quite heavily in the German e-commerce landscape, making large portions of its sales online with over 25 million visits per month.
Besides, the German national airline carrier can also be highlighted. Since it also conducts a large portion of its ticket sales via its website, Lufthansa is also standing out from the digital crowd, with about 10 million visits per month.
Here are the top e-commerce platforms in Germany. Have you ever bought goods or services from them? How was the experience, is the price cheaper and the delivery convenient? Let us know in the comments below!